The Journal of Writing in Creative Practice
The official journal of the Writing-PAD Network
---
See the Journal's Editorial Board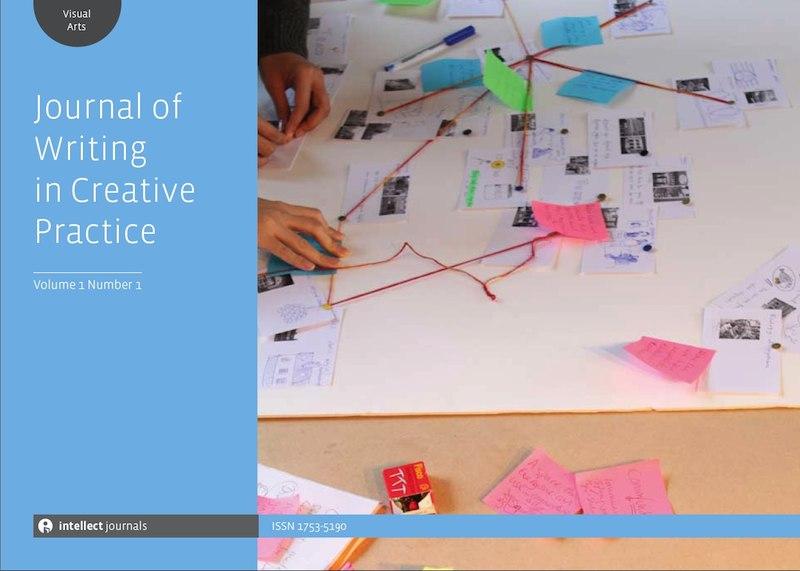 Download the first issue.
---
Launched in December 2007.
The Journal of Writing in Creative Practice (JWCP) is the official organ of the Writing Purposefully in Art and Design (Writing PAD) network. It offers art and design institutions an arena in which to explore and develop the notion of thinking through writing as a parallel to visual discourse in art and design practice. The journal aims to extend the debates to all national and international higher educational art and design institutions.
You may like to read about JWCP's mission and aims
---
Call for Papers
We will publish 1 volume each year which consists of 3 issues (usually January/April/November). We are always looking for new submissions. However, the next series of volumes (until 2015) will be guest edited by the Writing PAD Centres.
---
Forthcoming Calls:
We are aiming to have a big Writing-PAD conference in 2017 to celebrate 10 years since the foundation of the JWCP and 15 years of the Writing-PAD Network. This will be a chance to reflect and respond to changes but also to look to future possibilities. If you are interested in hosting such an event please let us know.
Current Issue: Volume 8
University of Brighton.
Volume 7:
Guest edited: Issue 7:1 Roehampton, Modular form; 7:2 De Montfort; 7:3 University of Huddersfield.
---
Volume 6:
Guest Edited: Issue 6.1: RCA; Issue 6.2: Writing in creative practice 'on tour'; Issue 6.3: Performance Writing.
---
Volume 5:
To celebrate the 10th year of Writing-PAD and the fifth year of the JWCP all 3 issue of this volume came from Goldsmiths, University of London.
---
Volume 4:
Guest Edited: Issue 4.1: Kingston; Issue 4.2: The Wales Issues; Issue 4.3:MMU.
The first issue was taken from the roundtable discussion which was convened by Dr. Maria Mencia, artist practitioner, Senior Lecturer in Digital Media at Kingston University and researcher working in digital media to create interactive installations, net.art, textual poetics and sound pieces. The context was based around the questions put forward before the roundtable and key note presentation. As some practical pieces were presented, there are papers based on the area of language-driven mediated practice-led research.
This issue was published in 2011
Issues 2 came from our Writing PAD Centre in Wales: Swansea Metropolitan University
Issue 3 came from Manchester Metropolitan University.
---
Volume 3
Guest edited issues for volume 3.
The first two issues were taken from the conference ART.MEDIA.DESIGN | WRITING INTERSECTIONS which took place in Melbourne, Australia at the Swinburne University of Technology on November 18-19, 2009.
This issue was published in 2010
The deadlines for the conference were:
Abstracts Due: June 16
Notification of Acceptance: July 16
Full Papers Due: September 16
Conference: 18-19 November
For further information on this symposium email: krobertson at swin.edu.au and gmelles at swin.edu.au or view the conference website: http://artmediadesign.synthasite.com
Issue 3 was edited by me (Julia Lockheart) and will contain the papers from the recent Centre for Learning and Teaching Conference in Berlin.
---
Volume 2
We have guest edited issues for volume 2.
The first two issues taken from the symposium, Writing Encounters within Performance and Pedagogical Practice, have been published in 2009.
The deadline for full papers was November 21st 2008.
For further information on this symposium email: writingencounters at thespacebetweenwords.org or see www.thespacebetweenwords.org.
Issue 3 will be guest edited by Dr Ian Mullholland from our Writing PAD Centre in Scotland: Edinburgh College of Art
---
Volume 1
The final deadline for issue 3, volume 1 was May 2nd 2008.
---
Subscription:
(either in print or online)
Personal subscription: £33, $65
Single issue price: £12, $24
Institutional subscriptions: £225, $350
Online subscriptions: £192, $290
There will normally be 3 issues per year.
Students may be able to request a special introductory offer.
Ordering:
Turpin Distribution, Pegasus Drive,
Stratton Business Park, Biggleswade,
Bedfordshire SG18 8TQ UK.
T: +44 (0)1767 604951
F: +44 (0)1767 601640
E: custserv at turpin-distribution.com
In case of problems:
Some ordering inquiries may be directed to the
publisher: -
Nic Reisner (Journals Marketing Co-ordinator)
email: nic at intellectbooks.com
http://www.intellectbooks.co.uk
Personal subscriptions and individual copies:
these can be purchased by clicking "Personal Orders" on the yellow sidebar at Intellect Books